Ruggedized Multi-Band, Multi-Constellation Centimeter-Accurate GNSS
Swift Navigation, in partnership with Carnegie Robotics, introduces Duro—an enclosed version of the Piksi® Multi dual-frequency RTK receiver. Built for the outdoors, Duro combines centimeter-accurate positioning with military ruggedness at a breakthrough price.
Built to Be Tough
Duro leverages design principles typically used in military hardware and results in an easy-to-deploy sensor, protected against weather, moisture, vibration, dust, water immersion and unexpected circumstances that can occur in long-term, outdoor employments.
Easy Integration
Duro's M12 connectors are sealed and industry standard, which balances ruggedization perfectly with user-friendliness. No external sealing is required to deploy in even the harshest conditions. The exposed interfaces support varied use cases without integration headaches.
Centimeter-Level Accuracy
Autonomous devices require precise navigation—especially those that perform critical functions. Swift Navigation's Piksi Multi module within Duro utilizes real-time kinematics (RTK) technology, providing location solutions that are 100 times more accurate than traditional GPS.
Fast Convergence Times
Multiple signal bands enable fast convergence times to high-precision mode. Single band RTK systems converge in minutes, while Piksi Multi converges to a high-precision solution within seconds. This allows for much faster system start times, as well as faster reacquisition, critical to robotic systems.
Field Upgradeable
Swift Navigation and Carnegie Robotics have partnered to create a product that offers a technology development platform that can easily be software-upgraded to leverage Swift Navigation's and Carnegie Robotics' future intellectual property and technology.
Leverages Piksi Multi
Multiple signal bands enable fast convergence times and multiple satellite constellations enhance availability. Piksi Multi supports GPS L1/L2 and GLONASS G1/G2 for RTK measurements and positioning and SBAS for robust sub-meter positioning in non-RTK mode. Other constellations such as BeiDou, and Galileo are planned to be rolled out in the near future. No additional upgrade charges for constellation upgrades.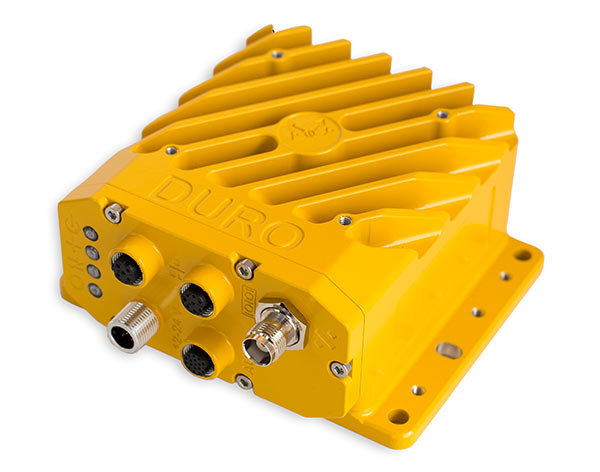 Benefits
Ruggedized Sensor for Long-Term Deployment
Uses Swift Navigation's Piksi Multi
Highly-Competitive Pricing
Flexible Mounting Interfaces
Future-Proof Hardware with In-Field Software Upgrades
Intuitive LEDs for Status and Diagnostics
Electrical Protection on all IO
Durable and Chemical Resistant Powder-Coating
Passive Thermal Design
Features
IP67 rated
Centimeter-Level Positioning
Dual Frequency GNSS RTK
Raw Data Outputs from On-Board MEMS IMU
Physical & Environmental
| | |
| --- | --- |
| Dimensions | 130 mm x 130 mm x 65 mm |
|   |   |
| Weight | 0.8 kg (Cast AI Housing) |
|   |   |
| Temperature |   |
| Operating | -40° C to +75° C |
| Storage | -40° C to +85° C |
|   |   |
| Humidity  | 95% non-condensing |
|   |   |
| Sealing | IP67 |
|   |   |
| Vibration (Operating and Survival) |   |
| Random | 7.7 g |
| Sinusoidal | 5 g |
|   |   |
| Mechanical Shock |   |
| Operating | 40 g |
| Survival | 75 g |
Electrical & I/O 
Power

 

Input Voltage1

10 - 35 V DC

Typical Power Consumption2

5.0 W

 
 

Antenna LNA Power Specifications

 

Output Voltage

4.85 V DC

Max Output Current

100 mA

 

External Connector Ports

 

2 x RS232 Serial Ports with Optional
Hardware Flow Control

 

Ethernet support up to 100Mbps

 

PPS, PV, 3 x Event Inputs

 

CANBus with Selectable Termination Resistor

 

Configurable Digital Inputs and Outputs

 

12 V at 1A and 5 V at 250mA Power Outputs

 
Position Performance Specifications6
| | |
| --- | --- |
| Position, Velocity & Time Accuracy |   |
| Horizontal Position Accuracy (CEP 50 in SBAS Mode) | 0.75 m |
| Velocity Accuracy | 0.03 m/s RMS |
| Time Accuracy | 60 ns RMS |
| Real Time Kinematic (RTK Accuracy 1σ) |   |
| - Horizontal  | 0.010 m + 1 ppm  |
| - Vertical  | 0.015 m + 1 ppm |
| RTK Initialization Parameters |   |
| - Initialization Time | < 10 s |
| - Initialization Reliability | > 99% |
| - Solution Latency | < 30 ms |
GNSS Characteristics
GNSS Signal Tracking 

 

GPS L1/L2C and GLONASS G1/G23

 

SBAS (WAAS, EGNOS, GAGAN, MSAS)

 
 
 

GNSS Data Rates4

 

Measurements (Raw Data) 

20Hz

Standard Position Outputs 

20Hz

RTK Position Outputs 

Up to 10Hz

Swift Binary Protocol (SBP) and NMEA-0183

 
 

Maximum Operating Limits5

 

Altitude

18,000m

Velocity

515 m/s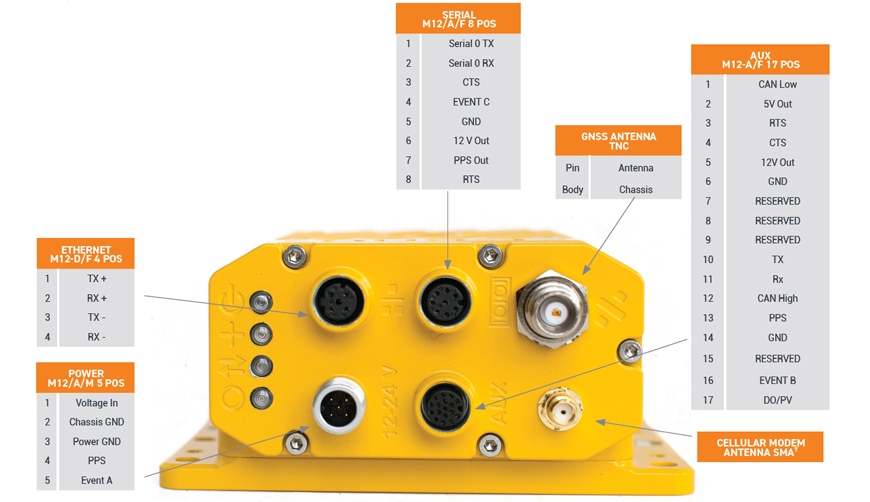 1 Maximum allowed input Voltage range. Recommended Voltage input range from 12 - 24V
2Power draw without cell modem activated ~ 5W. Power draw with cell modem active ~ 6W
3 Hardware-ready for BeiDou B1/B2, Galileo E1/E5b, QZSS L1/L2. Piksi Multi GNSS Module has the RF front end to receive these signals but there are no precise implementation dates for future satellite systems.
4 Please refer the Piksi Multi product summary for additional specifics.
5 As required by the U.S. Department of Commerce to comply with export licensing restrictions.
6 In open sky and strong signals conditions.
7 Currently a Beta Feature. While this feature is currently available to end-customers and can be used, it still has a Beta developmental status. This implies that while the feature will work, there is a potential for unknown firmware bugs which Swift Navigation is or isn't aware of. Customers using this feature need to note that user documentation for it may not be fully complete and Swift Navigation is not liable for customers intending to use a Beta feature in a final production environment.
Version 1.5. June 7, 2018

Copyright © 2018 Swift Navigation