We highly recommend using Swift's comprehensive Evaluation Kits to test Piksi Multi for your specific application. Our Evaluation Kits contain everything needed for a successful RTK assessment.
These professional kits allow you to quickly and easily set up a centimeter-accurate GNSS RTK system and contains what you need for rapid RTK prototyping and testing. In addition, the high-quality radios with effective ranges up to 15 kilometers (~10 miles), antennas and accessories allow you to check performance and functionality in a real environment to ensure a successful assessment.
The items listed below are included in each Evaluation Kit. Radios are available in 915 MHz (US) and 2.4 GHz (Europe and other countries that do not allow 915 MHz for license-free operation). Note it is very important to select the correct version; compliance with local regulations is your responsibility.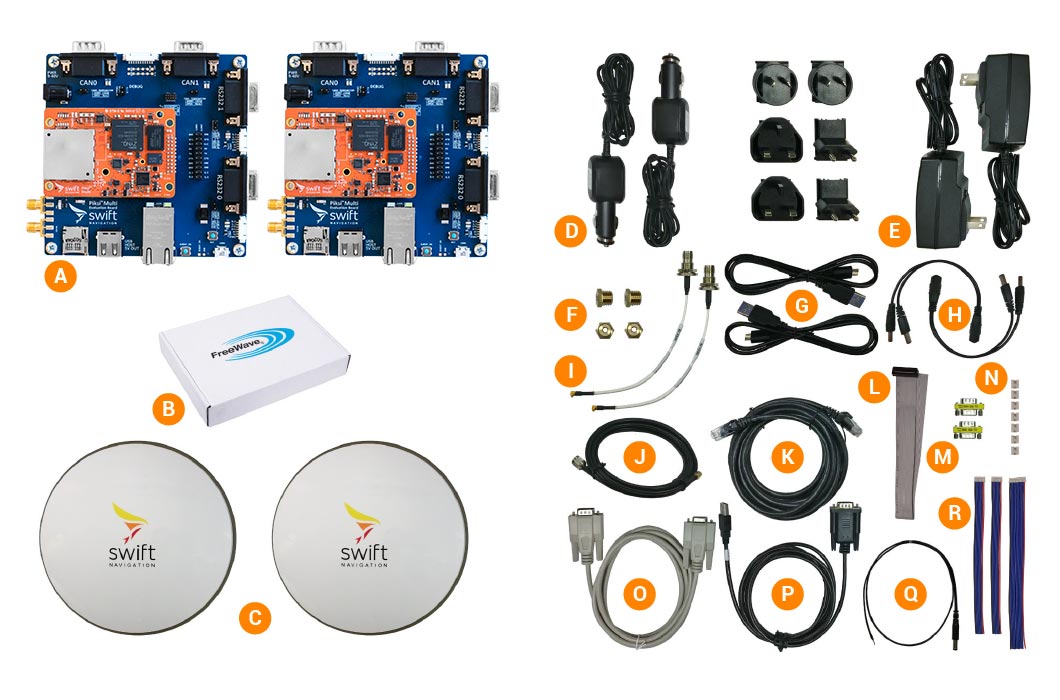 Main Components
A – (2) Piksi Multi GNSS Modules and (2) Evaluation Boards
B – FreeWave® Radio Pack with (2) 915 MHz or 2.4 GHz FreeWave® radios, mounted on carrier boards, antennas and cables
C – (2) GPS/GLONASS/BeiDou L1/L2 survey antennas
Cables and Adapters
D – (2) 12V cigarette lighter power cables
E – (2) International power supplies with interchangeable AC plugs (100-240 V AC / 12V DC 1.5 A)
F – (2) Antenna tripod mount adapters (1/4" x 20 to 5/8" x 11)
G – (2) MMCX male to SMA female cables (35-cm long)
H – (2) micro-USB cables
I – (2) DC barrel jack splitters (1 female into 2 male)
J – (2) TNC male to SMA male antenna cables (4-m long)
K – (1) Ethernet cable
L – (1) Header cable
M – (1) Null modem adapter per kit (DE9 male to DE9 male)
N – (8) Samtec header to loose wires
O – (1) RS-232 DE9 male to DE9 female cable
P – (1) USB to RS-232 DE9 male adapter cable
Q – (2) Barrel jack to wire cables
R – (3) Picoblade pigtails, one 11 pins and two 7 pins