Multi-Frequency, Multi-Constellation, Centimeter-Accurate GNSS
The Piksi Multi GNSS receiver from Swift Navigation. Its dual-frequency operation offers fast RTK convergence times and reliable, centimeter-accurate results at a breakthrough price.
Centimeter-Level Accuracy

Autonomous systems require precision navigation—especially those that perform critical functions. Swift Navigation solutions utilize real-time kinematics (RTK) technology, providing location solutions that are 100 times more accurate than traditional GPS.
Fast Convergence Times

Multiple signal bands enable fast convergence times to high-precision mode. Single band RTK systems converge in minutes, while Piksi Multi converges to a high-precision solution within seconds. This allows for much faster system start times, as well as faster reacquisition, which is critical to robotic systems.
Robust Positioning Performance

Piksi Multi supports GPS L1/L2, GLONASS G1/G2, BeiDou B1/B2, Galileo E1/E5b for RTK measurements and positioning and SBAS for robust sub-meter positioning in non-RTK mode. Additional constellations create more robust positioning performance in a variety of challenging skyview environments. Integrated MEMS oscillator technology enhances robustness under vibration and shock. An onboard 6DOF, MEMS based inertial measurement unit allows customers to develop their own sensor fusion algorithm that enhances the positioning performance of the Piksi Multi.
Open Platform

Piksi Multi features a powerful Xilinx Zynq® processor with an FPGA and dual-core ARM® Cortex®-A9 processors. Plenty of computational headroom and on-board Linux enable seamless integration of customer applications.
Rapid Prototyping

Piksi Multi is designed to be easy to use. The Piksi Multi Evaluation Kit includes: 2 Piksi Multi GNSS Receivers; 2 integrator-friendly Evaluation Boards; 2 GNSS survey grade antennas; 2 powerful radios and integration accessories. Piksi Multi features multiple high-density I/O connectors, providing a smooth and simple integration experience.
Breakthrough Price

Swift Navigation is built on the notion that highly-precise RTK solutions should be offered at an affordable price. Piksi Multi embraces the foundation of unmatched affordability and is available at a much lower cost than comparable systems.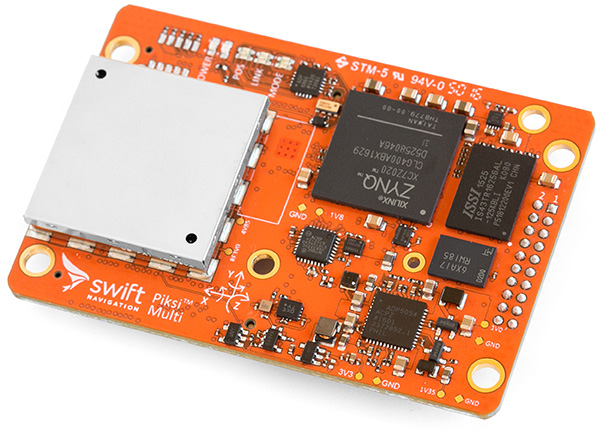 Benefits
Fast RTK Convergence Times
Highly-Competitive Pricing
Easy Integration into a Variety of Applications
Future-Proof Hardware with In-Field Software Upgrades
Onboard Linux Allows Flexibility
Features
Dual Frequency and Multi Constellation
Up to 20 Hz Solution Rates
Advanced MEMS Oscillator Technology
Raw IMU Data Stream Through On-Board MEMS IMU
Flexible Interfaces Including UART, Ethernet, CAN5 and USB
GNSS Characteristics
GNSS Signal Tracking 

 

GPS L1/L2, GLONASS G1/G2, BeiDou B1/B2, Galileo E1/E5b 

 
SBAS

1

 
 

GNSS Data Rates 

 

Measurements (Raw Data) 

Up to 20Hz

Standard Position Outputs 

Up to 20Hz

RTK Position Outputs

Up to 10 Hz2

Swift Binary Protocol (SBP) and NMEA-0183 

 
 

Maximum Operating Limits3

 

Velocity 

515 m/s 
Electrical & I/O 
Power 

 

Input Voltage 

5 - 15 V DC 

Typical Power Consumption4 

2.9 W 

 

Antenna LNA Power Specifications 

 

Output Voltage 

4.85 V DC 

Max Output Current 

100 mA 

 

Connectors 

 

1 x 20 Pin SAMTEC Connector

(PN: TMM-110-03-F-D) 

 

2 x 60 Pin High Density Connectors

(PN: 61082-061400LF) 

 

1 x MMCX Female Antenna Port 

 
 

Communication Interfaces 

 

2 x UART-LVTTL Ports (1 Mbps) 

 

2 x CAN5  Bus (1 Mbps)

 

Ethernet support up to 100Mbps 

 

2x USB 2.0 (1 Device, 1 Host) 

 
Position Performance Specifications
Position, Velocity & Time Accuracy

 

Horizontal Position Accuracy (CEP 50 in SBAS Mode)

 0.75 m8

Velocity Accuracy

0.03 m/s RMS

Time accuracy

60 ns RMS 

Real Time Kinematic (RTK Accuracy 1σ)

 

- Horizontal 

0.010 m + 1 ppm 

- Vertical 

0.015 m + 1 ppm

RTK Initialization Parameters

 

- Initialization Time

< 10 s

- Initialization Reliability

> 99%

- Solution Latency

< 30 ms
 
 

Time to First Fix (TTFF) Specifications8

| | | |
| --- | --- | --- |
| Hot Start9 | Cold Start10 | Re-acquisition11 |
| < 5 s | < 60 s | < 2 s |
Packaging & Accessories
Visit the Swift online store at www.swiftnav.com 
Piksi Multi Evaluation Kit

  - Designed to provide a seamless easy-to-use RTK positioning experience through a single kit consisting of 2 Piksi Multi GNSS Receivers; 2 Evaluation Boards; 2 GNSS survey grade antennas; 2 powerful radios and all other required integration accessories. 
Piksi Multi GNSS Receiver Pack

  - Quick integration packs designed both for customers seeking to create custom RTK solutions for unique projects or seasoned RTK systems integrators. 
Piksi Multi GNSS Receiver

 - Designed for the experienced systems integrator and the large volume enterprise customer.
Physical & Environmental
| | |
| --- | --- |
| Dimensions6 | 48 mm x 71 mm x 12.4 mm Form factor compatible with common GNSS modules |
|   |   |
| Weight | 26 g |
|   |   |
| Temperature7 |   |
| Operating | -40° C to +85° C |
| Storage | -40° C to +85° C |
|   |   |
| Humidity  | 95% non-condensing as measured by MIL-STD-810G, Method 507.5 Procedure II |
|   |   |
| Vibration (Operating and Survival) |   |
| Random | MIL-STD 810G, Method 514.6 (Category 24, 7.7g RMS) |
| Sinusoidal | IEC 60068-2-6 (Test Fc–5g) |
|   |   |
| Mechanical Shock  |   |
| Operating  | MIL-STD 810G, Method 516.6, Procedure I (40 g) |
| Survival  | MIL-STD-810G, Method 516.6, Procedure V (75 g) |
1 SBAS Support includes the United States-based Wide Area Augmentation Systems (WAAS), the pan-European Union-based European Geostationary Navigation Overlay Navigation System (EGNOS), the Japanese Multifunctional Transport Satellites (MTSAT) Satellite Augmentation System (MSAS) providing coverage for Japan and Australia and the GPS-Aided GEO Augmented Navigation (GAGAN) regional system operated by the Indian government.
2 Current FW supports 10Hz GPS L1/L2C + GLN G1/G2 (low latency) or 5 Hz GPS L1/L2C + GLN G1/G2 (time matched).
3 As required by the U.S. Department of Commerce to comply with export licensing restrictions.
4 Typical power consumption by module in L1/L2 RTK positioning mode.
5 The CAN implementation Bus on Piksi Multi is currently hardware ready and is electrically verified. We do not support any specific CAN output protocol (eg. J1939) and have no immediate plans to do so. To help customers design specific CAN protocols, we have plans to release open Linux documentation to help integrators implement their own CAN messages.
6 A hardware update on the Piksi Multi to use a higher grade CPU with better thermal characteristics was implemented, resulting in 0.4mm height increase of the Piksi Multi. Contact customer support for more information on this.
7 The use of an on-board heat sink may be required only in some rare cases. The module ships with a provided heat sink attachment.
8 In open sky and strong signals conditions.
9 Hot Start is the time taken by the receiver to achieve a standard position fix after a brief outage. For example, the time taken to fix a position for a car that is exiting a long tunnel. This can also be simulated by a simple RF on/off test with outages between 30 and 50 seconds.
10 Cold Start is the time taken by the receiver to achieve a standard position fix after a prolonged outage. For example, the time taken to achieve a position fix for a car that has been parked overnight in a garage and once it sees the sky view for the first time.
11 Re-acquisiton is defined as the time taken to re-acquire position lock after brief moment of outage. For example, a car traveling under a freeway/highway overpass. This can also be simulated by a simple RF on/off test with outages between 1 and 5 seconds.
Version 2.0 August 21, 2018
Copyright © 2018 Swift Navigation