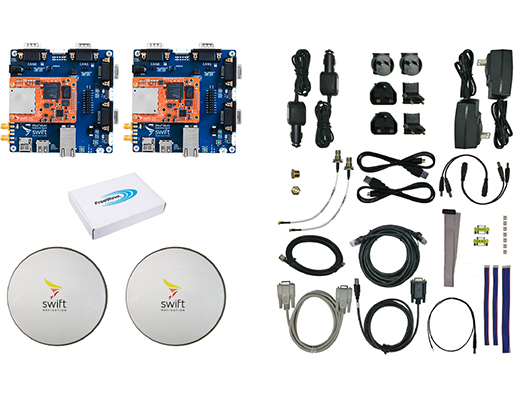 $2,495.00
9.1 lb
Piksi Multi Evaluation Kit (915MHz)
This kit contains everything you need for an RTK setup.
Contents
Modules
2x Piksi Multi GNSS Modules
2x Piksi Multi Evaluation Boards
Special Offer: Includes a 6-month Skylark license in eligible geographies
Cables and Adapters
2x MMCX (male) to SMA (female) cables
2x Micro-USB cables
2x Full power supply with international plug adapters
2x Barrel jack to cigarette lighter adapters
2x DC barrel plug splitters (1 female into 2 male)
1x RS-232 USB adapters
1x Mini null modem connectors (DB9 male to DB9 male)
1x IDC ribbon cables
2x Tripod mount adapters
1x Ethernet cables
1x 11-position Picoblade pigtail cables
2x 7-position Picoblade pigtail cables
2x SMA (male) to TNC (male) antenna cables
Antennas and Radios
2x L1/L2 GPS/GLN/BDS survey antennas
2x FreeWave radio modems
2x FreeWave radio antennas
Piksi Multi
Multi-band, multi-constellation centimeter-accurate GNSS.
Multiple signal bands enable faster convergence times, and multiple satellite constellations enhance availability. Piksi Multi supports GPS L1/L2, GLONASS G1/G2, BeiDou B1/B2, Galileo E1/E5b, SBAS and is hardware-ready for QZSS L1/L2.
Benefits
Fast RTK convergence times
Easily integrated into a variety of applications
Future-proof hardware with in-field software upgrades
Additional Documentation